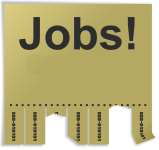 Job Opportunities
Icon key:
= New tab/window.
= PDF format.
= DOC format.
= External site.
= Email.
Project Coordinator
Closing date: January 17, 2020.
Project Coordinator for the Services and Advocacy Project for Deaf and Hard of Hearing Victims of Intimate Partner and Sexual Violence awarded through the Office on Violence Against Women's Disability Grant Program.
American Sign Language Interpreter
Closing date: None specified.
Hardin County Public Schools is currently in need of a sign language interpreter.
For more information or to apply visit: https://hardin.tedk12.com/hire/ViewJob.aspx?JobID=3868
ASL Instructor and Director of Interpreting Studies
Closing date: January 31, 2020.
The University of Louisville's ASL Interpreting Studies (ASLIS) program is currently seeking applicants for two positions: an ASL Instructor as well as a Director of Interpreting Studies. Both positions are non-tenure track but are offered as three-year contracts with potential opportunity for renewal. The applications close 31 January 2020. We would love to see some great collaborative folks join our team! For further information and qualifications, please see the links below.
Job application descriptions and links:
Program Supervisor of Interpreter Services
Closing date: None specified.
Full time position for management of Rauch, Inc.'s Interpreter Services program. Duties include supervision and management of all aspects of client services for Deaf and Hard of Hearing clients; coordination of foreign language interpretation/translation services; recruitment of qualified contract and staff interpreters; financial management and marketing of interpreting services...
EDUCATIONAL INTERPRETER II
Closing date: None specified.
Interpreting and/or transliterating of English and signed concepts to any necessary specialized vocabulary used by a student, staff or visitors in educational settings. Necessary specialized vocabularies may include, but are not limited to American Sign Language, English-based sign language, cued speech, and/or oral transliterating.
American Sign Language Interpreter
Closing date: None specified.
My name is Garrett Bell and I am contacting you all on behalf of Lotus Sexual Violence and Child Advocacy Center in Paducah, KY. In order to better serve clients in our area, we are looking for an ASL and/or a Spoken Spanish Interpreter in the Jackson Purchase Region.
Paid Intern Opportunities
Closing date: None Specified.
Individuals must be between the ages of 16-24. Household Income must meet low income criteria of 70% LLSIL or below, and is based according to family size. Individuals must have an employment or educational barrier (basic skills deficient, additional assistance needed for work readiness, parenting youth, etc).