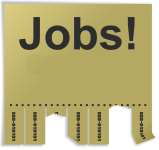 Job Opportunities
Icon key:
= New tab/window.
= PDF format.
= DOC format.
= External site.
= Email.
American Sign Language Interpreter
Closing date: None Specified.
Bowling Green Independent Schools is seeking applicants for an American Sign Language Interpreter.
Requirement: Certified with SLPI, EIPA or NIC and a Kentucky Board of Interpreters License.
To view a job description and/or apply go to: https://bg.tedk12.com/hire/index.aspx
Columbia Regional Program Jobs
Closing date: None Specified.
Columbia Regional Program, Portland, Oregon, is looking for qualified, student and family centered candidates that are seeking to join a dynamic team that serves students that are Deaf and Hard of Hearing birth-21. Please see the brochure for more information about Columbia Regional Program.
Current job postings for the following positions can be found at:
*Teacher of the Deaf- School Age Classroom Teacher- Job # 17915
*EI/ECSE Teacher of the Deaf -Job #17347
*American Sign Language Specialist - Job # 17356
Please feel free to contact Kristy Karsten at kkarsten@pps.net for more information.
American Sign Language Interpreter for Deaf Education
Closing date: None Specified.
There are at least two interpreter positions open for the 2018-19 school year in New Albany - Floyd County Schools.
Direct Support Professional (DSP)
Closing date: None specified.
The Southwest Center, located in southwest Jefferson County, provides supports to adults with developmental/intellectual disabilities in a variety of community-based services, each of which is geared towards helping our participants to live, work and enjoy life in his/her community. We are seeking applicants for a Direct Support Professional (DSP) position or a Community Access Specialist who is Deaf or proficient in American Sign Language and visual-gestural communication to provide support, care and supervision for a participant who is Deaf.
Sort Center Fulfillment Associate Part-Time
Closing date: None Specified.
Viaquest Foundation: "We need bright, motivated, hardworking individuals to fill Part Time Associate positions. The ideal candidate possesses a strong work ethic, attention to detail, the ability to meet deadlines, and a commitment to customer service as it relates to product fulfillment."
Multiple Job Openings
Closing date: None Specified.
The Indiana School for the Deaf is currently seeking people to fill the following vacancies:
Kindergarten to 5th Grade Classroom Teacher
Literacy Specialist
Transition & Career Services Specialist
High School Life Skills Teacher
Curriculum & Media Center Specialist
School Psychologist
Audiologist
Paid Intern Opportunities
Closing date: None Specified.
Paid Internship opportunities are available for ages 18-24.