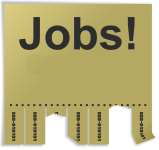 Job Opportunities
Icon key:
= New tab/window.
= PDF format.
= DOC format.
= External site.
= Email.
Virginia Relay Manager
Closing date: April 26, 2019.
The Virginia Department for the Deaf and Hard of Hearing is recruiting for a Virginia Relay Manager. The incumbent will administer the federally mandated Telecommunications Relay Service (aka Virginia Relay) and monitor the performance of the telecommunications relay service provider and the outreach coordinator. He/she will administer the Virginia Relay Advisory Council (VRAC). The incumbent will also oversee the Technology Assistance Program (TAP) and supervise two staff. The Virginia Relay Manager will research, experiment and recommend new relay technology and specialized equipment/assistive technology for inclusion within the Virginia Relay and the TAP. View job posting with qualification requirements at https://virginiajobs.peopleadmin.com/postings/140843
American Sign Language Interpreter
Closing date: None specified.
My name is Garrett Bell and I am contacting you all on behalf of Lotus Sexual Violence and Child Advocacy Center in Paducah, KY. In order to better serve clients in our area, we are looking for an ASL and/or a Spoken Spanish Interpreter in the Jackson Purchase Region.
Visiting Assistant Professor‐American Sign Language
Closing date: Until filled.
The University of Cincinnati Blue Ash College invites applications for a Visiting Assistant Professor‐American Sign Language in the Foreign Language Department, beginning August 15, 2019. Applicants must be excellent communicators and classroom facilitators who enjoy teaching in a culturally diverse, student centered environment.
Paid Intern Opportunities
Closing date: None Specified.
Individuals must be between the ages of 16-24. Household Income must meet low income criteria of 70% LLSIL or below, and is based according to family size. Individuals must have an employment or educational barrier (basic skills deficient, additional assistance needed for work readiness, parenting youth, etc).
Columbia Regional Program Jobs
Closing date: None Specified.
Columbia Regional Program, Portland, Oregon, is looking for qualified, student and family centered candidates that are seeking to join a dynamic team that serves students that are Deaf and Hard of Hearing birth-21. Please see the brochure for more information about Columbia Regional Program.
Current job postings for the following positions can be found at:
*American Sign Language Specialist - Job # 17356
Please feel free to contact Kristy Karsten at kkarsten@pps.net for more information.
Sort Center Fulfillment Associate Part-Time
Closing date: None Specified.
Viaquest Foundation: "We need bright, motivated, hardworking individuals to fill Part Time Associate positions. The ideal candidate possesses a strong work ethic, attention to detail, the ability to meet deadlines, and a commitment to customer service as it relates to product fulfillment."