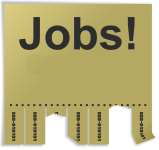 Job Opportunities
Icon key:
= New tab/window.
= PDF format.
= DOC format.
= External site.
= Email.
Educational Interpreter
Closing date: None specified.
Mt. Tabor Elementary in New Albany Floyd County in Indiana is seeking an educational interpreter. The pay on the job listing is incorrect, as the pay has been increased.
Rehabilitation Counselor for the Deaf
Closing date: January 11, 2022.
The Tennessee Division of Vocational Rehabilitation is currently recruiting to fill a vacant Rehabilitation Counselor for the Deaf.
Executive Director
Closing date: None specified.
EXECUTIVE DIRECTOR needed for Non Profit Organization in Warren, RI.
The Corliss Institute is a small (approximately $2 million budget) non-profit agency serving adults with diverse developmental disabilities. Our specialized focus is serving those who also have unique communications needs due to being deaf or hard-of-hearing. Much of the direct care interaction with our members is through sign language, principally ASL, and many of our direct care professionals are also deaf. We offer residential and day program services (including employment services) to this close-knit community.
Administrative Assistant
Closing date: When filled.
Provides professional administrative support to the department through coordination, communication, critical thinking, teamwork, and clerical functions such as preparing correspondence, receiving visitors, arranging conference calls, and scheduling meetings. Assists with conducting research, preparing statistical reports, and handling information requests. May also assist in the training and technical direction to lower-level clerical staff.
Executive Administrative Secretary
Closing date: When filled.
The Kentucky Commission on the Deaf and Hard of Hearing is seeking someone to fill an Executive Administrative Secretary vacancy. See the video, a link to the job opening announcement, and a link to apply for this position.
Job opening announcement. (Accessible PDF)
Deaf or Hard of Hearing Coordinator
Closing date: None specified.
Poetic Justice at MIT Media Lab is exploring new forms of social justice through art. We're currently looking for a Deaf and Hard of Hearing Community Coordinator to work on "A Counting," an ongoing series of participatory public artworks that portray the linguistic and ethnic diversity of the United States. It's been featured on NPR and in the New York Times.
Social Worker - Child and Family
Closing date: None specified.
Seven Counties Services is looking for a dynamic Social Worker fluent in ASL, LCSW preferred!