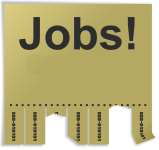 Job Opportunities
Icon key:
= New tab/window.
= PDF format.
= DOC format.
= external site.
= Email.
Part-time instructor in American Sign Language
Closing date: None specified.
The Department of Modern and Classical Languages, Literatures & Cultures at the University of Kentucky in Lexington, Kentucky invites applications for the position of part-time instructor (PTI) in American Sign Language, to begin August 2023. We are currently seeking an experienced instructor to teach two sections (3 credit hours each) of beginning American Sign Language, ASL 101, in the Fall 2023 semester, in person. The Fall 2023 semester runs August 21, 2023-December 15, 2023.
Deaf Peer Support Specialist
Closing date: None specified.
Are you Deaf? Hard of Hearing? A child or sibling of a person who is Deaf or Hard of Hearing? Do you have experience with mental health or substance misuse? Would you like to help other people live a full and happy life? The Department for Behavioral Health, Developmental, & Intellectual Disabilities (DBHDID) is partnering with Bridgehaven to recruit and train up to five people to work with individuals who are Deaf, Hard of Hearing, DeafBlind, or DeafDisabled and want support or help...
Watch an ASL signed YouTube video describing this opportunity.
Deaf Blind Employment Specialist
Closing date: None specified.
Primary focus will be to provide one on one services to consumers to assist with achievement of employment outcomes, with a commitment to a fully inclusive community-based environment. The DeafBlind Employment Specialist will also offer training and technical assistance to their families and service providers. This position carries out identified and specific targeted activities, as outlined by the state's DeafBlind Interagency Team (DBIT) to assist the HKNC Regional Representative and interagency team with building capacity within the state. The DeafBlind Employment Specialist will work in tandem and report directly to the HKNC Regional Representative. State and community partners in the states the DeafBlind Employment Specialist work with will assist in identification of gaps in services in these states that will further delineate job responsibilities.
Sorenson Field Installer/Trainer
Closing date: None specified.
Sorenson VRS is currently seeking two people to fill two Field Installer/Trainer vacancies; one in the Louisville area, and the other in the Lexington/Danville area.
For more information, and to apply, if you're interested, please click on one of the links below which points to an area closest to you:
ASL Specialist III
Closing date: Open until filled.
The EKU Department of American Sign Language and Interpreter Education seeks a 9-month, full-time ASL Specialist (non-tenure track) faculty member. Primary responsibilities for the position include serving on the interpreter outreach team and teaching undergraduate level American Sign Language (ASL), Deaf studies, and/or interpretation courses. Faculty members will teach primarily using face-to-face. Online synchronous or asynchronous formats may also be used from time to time.
In addition to effective contributions to the outreach team and strong teaching abilities, this position requires service at department, college, university and professional levels. Other duties will depend upon the needs of the ASLIE department.
CorpsTHAT Job Opportunities
Closing date: None specified.
Hello! We are reaching out to let you know about our summer job opportunities through our non-profit organization CorpsTHAT. CorpsTHAT was established to create a bridge between the Deaf community and the outdoor community.
We have multiple paid summer job positions open, including crew leaders and crew members for this summer. Our Crew Leader Positions and Crew Members are NOW OPEN!
We are looking to hire Deaf and Hard of Hearing Crew Leaders who are 21+ yr old to work together as a team to lead, guide and work with 6 Deaf and Hard of Hearing Crew Members who are 18+ yr old completing conservation projects along the east coast.
During the program transportation, housing and meals will be provided. More information on each position can be found on the job descriptions in the links.
If you are interested in working with us or would like more information, then check out our online job board or reach out to us at our contact information below. We have several upcoming Job Spotlight webinars that will discuss and answer questions on our Crew Leader and Crew Member positions. Our Crew Member Job Spotlight is on February 16th. If you missed our Crew Leader Job Spotlight, it will be uploaded to our Youtube Channel.
Thanks for your time!
CorpsTHAT Team
info@corpsthat.org
202-650-0838 (videophone)
Social Worker - Child and Family
Closing date: None specified.
Seven Counties Services is looking for a dynamic Social Worker fluent in ASL, LCSW preferred!