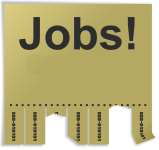 Job Opportunities
Icon key:
= New tab/window.
= PDF format.
= DOC format.
= external site.
= Email.
Executive I - Interpreter Coordinator (MC Option)
Closing date: December 4, 2023
The position oversees the administration of the Interpreters for the Deaf Licensure Act of 2007 including the Board of Evaluation of Interpreters Certification program. The ideal candidate is professional and self-motivated who wants to improve communication access for the Deaf, Hard of Hearing and DeafBlind community.
To find and/or apply the job position, please visit Work for Illinois. Once on the page, type "31956" in Search by keyword and click on Search Jobs button. On the results page, mouse-over under Showing 1 Job and click on the position.
For more information on salary, job responsibilities, minimum and preferred qualifications, specialized skills, and conditions of employment, please visit the aforementioned link above.
Sorenson Field Installer/Trainer
Closing date: None specified.
Sorenson VRS is currently seeking two people to fill two Field Installer/Trainer vacancies; one in the Louisville area, and the other in the Lexington/Danville area.
For more information, and to apply, if you're interested, please click on one of the links below which points to an area closest to you: