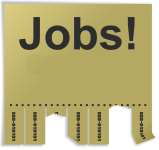 Job Opportunities
Icon key:
= New tab/window.
= PDF format.
= DOC format.
= External site.
= Email.
Paid Intern Opportunities
Closing date: None Specified.
Individuals must be between the ages of 16-24. Household Income must meet low income criteria of 70% LLSIL or below, and is based according to family size. Individuals must have an employment or educational barrier (basic skills deficient, additional assistance needed for work readiness, parenting youth, etc).
Columbia Regional Program Jobs
Closing date: None Specified.
Columbia Regional Program, Portland, Oregon, is looking for qualified, student and family centered candidates that are seeking to join a dynamic team that serves students that are Deaf and Hard of Hearing birth-21. Please see the brochure for more information about Columbia Regional Program.
Current job postings for the following positions can be found at:
*American Sign Language Specialist - Job # 17356
Please feel free to contact Kristy Karsten at kkarsten@pps.net for more information.
Sort Center Fulfillment Associate Part-Time
Closing date: None Specified.
Viaquest Foundation: "We need bright, motivated, hardworking individuals to fill Part Time Associate positions. The ideal candidate possesses a strong work ethic, attention to detail, the ability to meet deadlines, and a commitment to customer service as it relates to product fulfillment."