Sign Language Information
New from Kentucky Department of Education!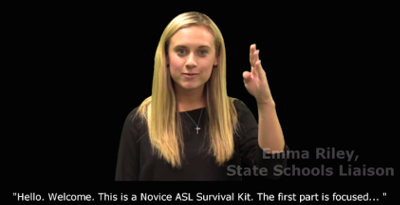 What is American Sign Language?
A brief history of sign language along with some common misconceptions.
The early beginnings of sign language, major developments in sign language and how American Sign Language developed.
Where can I learn or take classes in sign language or find a sign language tutor?
(Accessible PDF)
A list of institutions that offer sign language classes.
Are there careers working with sign language?
A list of careers involving sign language and other related links.
American Sign Language as a Foreign Language
American Sign Language is quickly gaining popularity as a foreign language. Many states have passed legislation that allows American Sign Language to be accepted as foreign language requirements in post-secondary education settings. In some states American Sign Language is only offered in elementary and secondary schools. In many instances, each school district is allowed to determine if American Sign Language classes will be approved for credit.
In Kentucky, American Sign Language classes are offered for credit at several colleges and universities. There are also several public school districts that teach American Sign Language.
When seeking an American Sign Language instructor, it is imperative to find an individual who is qualified to do so. As with any language, the best instructors are usually those whose native language is the one they are teaching. The American Sign Language Teachers Association is dedicated to the improvement and expansion of the teaching of ASL. It has a membership of over 1,000 ASL and Deaf Studies educators from elementary through graduate education across the U.S. Visit their site to learn more about finding a qualified American Sign Language instructor in your area.
Sign Language/ASL Links
Other modes of communication for deaf and hard of hearing individuals
Additional communication options available for individuals who are deaf or hard of hearing.