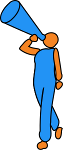 Announcements
Icon key:
= New tab/window.
= PDF format.
= DOC format.
= External site.
= Email.
Seeking Tutor for Deaf Social Work Student
Tutoring support needed for Social Work student. Student needs assistance with reading strategies as well as key concepts in Social Work. May partner with the University Writing Center or other campus resources to enhance student's support.
Virtual tutoring for 2-4 hours per week is requested, evening availability preferred. The tutor should be fluent in American Sign Language and have completed foundational coursework in Social Work.
Additional short-term tutoring opportunities for Art History and English Literature.
Can be compensated if the tutor desires to complete University HR Process. Contact Katherine Walker-Payne, Director of Center for Accessibility and Learning Equity at Spalding University, if interested or for more information.
Deaf Perspectives on Treatment for Alcohol Use and Stress
The University of Rochester researchers are studying Deaf perspectives on alcohol use, stress, and the decision to seek treatment. Individual interviews will be conducted on Zoom. Volunteers will be paid $40.
2021 Kentucky Hands & Voices Calendar
Are you ready to put 2020 behind you and have something to look forward to? Purchase the 2021 Kentucky Hands & Voices Calendar and be reminded of your WHY throughout the year! Each month features children who are deaf or hard of hearing from around Kentucky. (Each child is placed in their birth month).
Calendars are $15 (including S&H).
Purchase here: https://kyhandsandvoices.org/product/2021-my-why-calendar/
Hint: These make great stocking stuffers for family members, office colleagues or service providers!
From Michelle Niehaus, LCSW, is the Statewide Coordinator for Deaf and Hard of Hearing Services at the Division for Mental Health, Developmental Disabilities and Addiction Services:
Seeking Family Member to Serve on the DHHS Mental Health Advisory Committee
Hello!
I'm reaching out for your help. We are in need of a family member representative from the Advisory Committee on the Need for Services for Individuals who are Deaf or Hard of Hearing.
The individual must fit the following criteria:
One (1) member shall be a family member of a deaf or hard-of-hearing consumer of mental health services and shall be appointed by the secretary from a list of nominees accepted from any source.
Members are asked to attend four meetings per year, generally held the 3rd Wednesday of February, May, August, and November. We are currently meeting via Zoom. When in-person meetings resume, family representatives are eligible to receive reimbursement for miles, meals, and reimbursement.
We at DBHDID believe in family involvement as services are designed, implemented, and evaluated. Please help us to find qualified individuals who can help improve our service system. Interested candidates may contact me at Michelle.Niehaus@ky.gov for next steps.
Thanks so much for your assistance!
Michelle Niehaus, LCSW
Program Administrator, DHHS
KY Division for Behavioral Health
(502) 782-6181 (V)
(502) 385-0460 (VP)
Michelle.Niehaus@ky.gov
2021 Hamilton Relay Scholarship Opportunity
From Hamilton Relay:
As the Telecommunications Relay and Captioned Telephone service provider for Kentucky, Hamilton Relay acknowledges that opportunities for higher education affect the future of Kentucky's high school students.
We are pleased to once again extend the Hamilton Relay Scholarship opportunity to graduating high school seniors in Kentucky who are deaf, hard of hearing, deaf-blind or have difficulty speaking to assist in their goals of continuing their education.
Hamilton Relay selects one candidate from each of the states where Hamilton is the contracted service provider. All candidates are required to submit an application, write an essay under the topic of communication technology and provide a letter of recommendation in order to qualify. The application documents can also be found online at www.hamiltonrelay.com.
The scholarship deadline is January 30, 2021 and applications must be received or postmarked by that date. The scholarship is in the amount of $500 and the winner will be determined on or before March 1, 2021.
If you have any questions about Hamilton Relay or the Hamilton Relay Scholarship Program, please contact Renate Buttrum directly.
Hamilton Relay is excited to give back to the community by offering this scholarship opportunity to students who are deaf, hard of hearing, deaf-blind or have difficulty speaking. We look forward to learning more about the outstanding students in Kentucky.
ElderServe Telecare
From Michelle Niehaus, LCSW, is the Statewide Coordinator for Deaf and Hard of Hearing Services at the Division for Mental Health, Developmental Disabilities and Addiction Services:
Hello!
We trained our first six volunteers for TeleCare yesterday! Special thanks to Shirley for leading the "hands on" portion and doing role play!
It looks like we have volunteers for Friendly Visiting too and that training won't be hard to pull off, so we are now recruiting Deaf or Hard of Hearing Seniors (aged 60+) from Jefferson County to participate in the program!
Please spread the word.
We can also always use more volunteers, so let people know about this!
Michelle Niehaus
ASL Voter Assistance Hotline Available
From NAD:
We're excited to release our new ASL Voter Assistance Hotline! The idea was originally developed by Jehanne McCullough and the goal behind the hotline is to provide resources on the voting process. Volunteers will be standing by to answer any questions you have about voting. We encourage you to vote in the upcoming election, you can use our hotline to get more information if needed! If you care about your rights and want to support/be against certain issues, make an impact by voting for candidates who will support your positions/issues.
Bottom line: register and vote!
Hepatitis A Outbreak in Kentucky
The Kentucky Department for Public Health (DPH) announced an outbreak of Hepatitis A in several Kentucky counties.
Read this urgent announcement here (Spanish translation included)...
Gallaudet University: A Survey Seeking Public Input
Parents of children who are deaf or hard of hearing – and the professionals who serve them. We Need Your Feedback!
The Laurent Clerc National Deaf Education Center wants to know what you see as the significant barriers facing deaf and hard of hearing students ages birth through high school. This is your opportunity to share your experiences.
Please complete our online survey.
Lexington Accessible Hazardous Alert System
The Lexington Division of Emergency Management has announced that they now assist individuals with hearing loss by providing alert messages called Accessible Hazard Alert System (AHAS). It will be a free service that will send alerts to your smartphones, tablet, etc. in regards to severe weather, chemical accidents, and other emergencies. According to Lexington AHAS, "Lexington AHAS subscribers that live in an area affected by an emergency or disaster will be able to receive an accessible alert message in American Sign Language(ASL) and English voice and text.The alert message could include information about the emergency and what actions to take."
Learn more and if you live in Lexington/Fayette, sign up for the free service here!
Apple and Cochlear team up to roll out the first implant made for the iPhone
Apple has teamed up with Australian-based Cochlear to bring iPhone users the first made for iPhone Cochlear implant.
Approved by the U.S. Food and Drug Administration in June, Cochlear's Nucleus 7 Sound Processor can now stream sound directly from a compatible iPhone, iPad or iPod touch to the sound processor.
Continue reading about this at techcrunch.com!
Resources for Professionals and Families with Children with Cochlear Implants
This comprehensive set of guidelines is a tool designed to facilitate planning discussions surrounding the educational supports and services essential for each student using cochlear implant technology. This product reflects the collaborative work between the Laurent Clerc National Deaf Education Center and the Deaf and Hard of Hearing Program of Boston Children's Hospital.
National Deaf Hotline
ADWAS is excited to announce that the National Deaf Hotline Services has been expanded to 24/7. Their hours are no longer limited to Monday – Friday and from 9AM-5PM (PST). They would like to share this information with the Deaf, DeafBlind, DeafDisabled, and Hard-of-Hearing community by distributing and sharing this accessible resource that is readily made available for the survivors, family members & friends, and service providers.
Check out ADWAS' subtitled/ASL signed video on YouTube for more information!
Online Learning Opportunity (self-paced)
The Laurent Clerc National Deaf Education Center and the Texas Education Service Center 20 presents:
Educating Students Who Are Deaf or Hard of Hearing: A Guide for Professionals in General Education Settings is an online, three-module resource that is designed to equip general education professionals (grades K-12) with the knowledge and skills they need for working with deaf and hard of hearing students in the classroom or school environment.
Click here for more details.
Online American Sign Language Class
Do you have a child who is deaf or hard of hearing age 36 months or younger? You are eligible to get a free online class to learn American Sign Language!
Program Offers Free Hearing Aids for Community Service
KCDHH's Executive Director Virginia Moore and Executive Staff Advisor Anita Dowd were interviewed by the Louisville Public Media Station WFPL 89.3 concerning a new program which offers free hearing aids for completing community service hours.
Earning opportunity for Deaf and Hard of Hearing Signers
The Substance Abuse Resources and Disability Issues (SARDI) program at Wright State University, in Dayton, Ohio need your help to make their surveys ASL accessible and they are willing to compensate you for your time.
Reaching Out to Foster Parents for General Information
Michelle Niehaus from the Department for Behavioral Health, Developmental and Intellectual Disabilities is calling out to current and former foster parents for some general information regarding foster parenting. Please read this letter from Ms. Niehaus for more information.
Video: Common Workplace Accommodations for the Deaf/Hard of Hearing
There's a new video from Michigan Works! on YouTube, signed and with open captions, on Common Accommodations. Topics covered include the ADA, Employer Responsibilities, Employee Responsibilities, Common Workplace Accommodations, Questions to Consider, Communication Challenges. The video runs approximately 11 ½ minutes.
http://www.youtube.com/watch?v=Pc4_o0Qqizg
Deaf Scams Video
Purple's i711 released an excellent video about scams which target the deaf population. Watch this video to learn how to identify a scam so you don't become a victim.
Click here (WEB) to watch the video.
TDD Users Contacting the Governor's Office
For TDD users who wish to contact the Governor's Office, please use the following number:

502-564-9551.