VOLUME 41, NO. 6                                                                                              JUNE, 2023
Kentucky Honors Virginia Moore in Memorial
By Sara Ladd, Kentucky Lantern
<![if !vml]>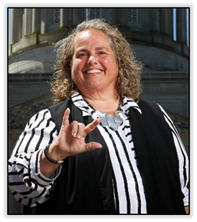 <![endif]>LOUISVILLE – There's a version of the late Virginia Moore that the general public mourns: the woman who stood next to Gov. Andy Beshear day after day, interpreting in sign language how many Kentuckians COVID-19 had killed that day.
But her friends and family who gathered at the Muhammad Ali Center in downtown Louisville on Sunday (June 11) to celebrate her life remember her for so much more than the fame she knew during the pandemic. Read Sara's full story here.
_________________________________________________________________
Dowd Detailed KCDHH's ED During National Search
<![if !vml]>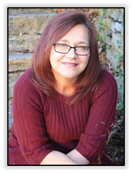 <![endif]>Anita Dowd has been detailed as Executive Director (ED) for KCDHH as the board begins a national search after the recent death of long-time ED Virginia Moore. Moore passed away on May 6.
Dowd, profoundly deaf since childhood, has served in various roles at KCDHH during her 25-year tenure, most recently as Executive Staff Advisor for the past 12 years. Not only is she an advocate for the deaf and hard of hearing community in her professional life, but as the mother of two girls who also have a hearing loss, she is also extremely passionate about removing barriers and promoting awareness of various deaf and hard of hearing issues in her personal life as well.
The Board said "detailing" someone into the position means the individual may return to their previous position or apply for the ED position. The Board's search committee held its first official meeting June 13.
_________________________________________________________________
KDE Receives Input on Principal Search at KSD
<![if !vml]>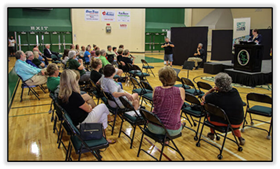 <![endif]>Kentucky School for the Deaf (KSD) supporters got the chance to express their opinions on the search for a new principal during a series of forums in May.
The two forums – one virtual forum on May 24 and one in-person forum on May 31 – served as opportunities for stakeholders in the Deaf and Hard of Hearing communities to inform the Kentucky Department of Education (KDE) and help the hiring committee make critical and informed decisions throughout the process. More than 100 people participated in the two forums.
KSD Principal Toyah Robey announced her retirement at the end of the 2022-2023 school year and the KDE is committed to sharing updates about the search for the next principal. If you would like to receive information about surveys, community forums and other updates about the principal search, please click here. For other questions or concerns, email kdecommunications@education.ky.gov. To read the full story, click here.
__________________________________________________________________
June is Effective Communication Month
<![if !vml]>

<![endif]>Did you know June has been designated as Effective Communications Month? Unfortunately, deaf and hard of hearing individuals deal with barriers to effective communications in many different ways. One of the most important ways we do this is by acting as a consultant to the governor, General Assembly and various state and local governmental agencies concerning policies and programs that pertain to people with hearing loss.  KCDHH also cooperates with and assists local, state, and federal governments, and public and private agencies in the development of programs for deaf and hard of hearing persons.  Effective communication is always at the heart of making policies and programs accessible to deaf and hard of hearing individuals. The KCDHH Telecommunications Access Program (TAP), perhaps the agency's most popular program, offers specialized equipment, like captioned telephones and wireless devices like smartphones and tablets that help make communicating through the telephone more effective while our Visor Card program assists with effective communication between law enforcement officers and deaf and hard of hearing individuals. These are just a few of the ways KCDHH promotes effective communication, to learn more about what we do and ways we can help, click here.
____________________________________________________________
 Juneteenth Celebration June 19 at Capitol
<![if !vml]>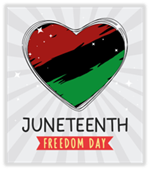 <![endif]>Governor Andy Beshear announced that on June 19, there will be a Juneteenth ceremony in the Capitol Rotunda to honor the strength and courage of African Americans and the contributions they have made to the country. The Governor will also sign a proclamation officially declaring June 19, 2023, as Juneteenth in Kentucky.
"This is an important day in our history as Americans – one where we stand united in acknowledging the end of our nation's greatest injustice," said Gov. Beshear. "And while we've made progress, we must acknowledge that we still have a long way to go for true equality. We must not hide from our history, even the parts that are painful. We must learn from it and make progress for a better tomorrow."
________________________________________________________________
Annual Deaf Awareness Day at Louisville Zoo, August 20
<![if !vml]>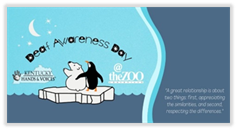 <![endif]>The 5th Annual Deaf Awareness Day at the Louisville Zoo will be Saturday, August 20. Discounted tickets are available for friends and family members: children (ages 3-11) $12 each, adults (ages 12-59) $17 each, seniors (ages 60+) $12 each. Children under two years of age are free. If you have a child who is deaf or hard of hearing and is a Kentucky resident, your child will also receive a free ticket. Pre-register before August 18. Email info@kyhandsandvoices.org for more information.
______________________________________________________________
<![if !vml]>

<![endif]>
Anyone interested in attending a summer camp for deaf and hard of hearing students, the Kentucky School for the Deaf Outreach Consultants have compiled a list. Click here for information on camps held in Kentucky in-person, online, and out of state.
_________________________________________________________________
<![if !vml]>

<![endif]>
 TAP Advisory Board Seeking New Members
The KCDHH Telecommunication Access Program (TAP) Advisory Board announces three vacant seats. They are looking for two hard of hearing and one deaf representative to fill these positions.
The TAP Advisory Board advises the Telecommunications Access Program on assistive technology for deaf, hard of hearing, and speech-impaired consumers.
Members of the Advisory Board are appointed by the KCDHH Commission Board. If you would like to serve on this board, please submit a letter explaining your interest. You may email your letter and current resume to Jessica Endler, TAP Program Coordinator, by email at jessica.endler@ky.gov or by mail at KCDHH, 632 Versailles Road, Frankfort, KY 40601. Deadline to submit your paperwork is June 30. For questions, call 502-573-2604 or click the video below.
<![if !vml]>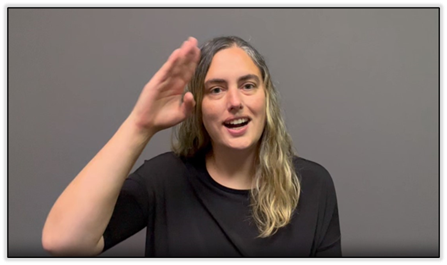 <![endif]>
________________________________________________________________
<![if !vml]>

<![endif]>
UK Invites Applicants to Apply for Part-Time ASL Position
The University of Kentucky Department of Modern and Classical Languages, Literatures & Cultures at the University of Kentucky in Lexington, Kentucky invites applications for the position of part-time instructor (PTI) in American Sign Language, to begin August 2023. They are currently seeking an experienced instructor to teach two sections (3 credit hours each) of beginning American Sign Language, ASL 101, in the Fall 2023 semester, in person. The Fall 2023 semester runs August 21, 2023-December 15, 2023. 
Ideally, instructors would have an M.A. degree (M.A. degrees in ASL and/or certification from the ASLTA will be prioritized), but candidates with a B.A. and significant relevant teaching experience will also be considered. The salary will be a minimum of $3,330, depending on degree and experience, for each 3-hour class. Flexibility with respect to the teaching schedule may be possible.  Applicants interested in the position should send a brief letter of application by email, an updated CV, and contact information to Dr. Jeffrey Peters, Chair, Department of Modern and Classical Languages, Literatures, and Cultures: jnp@uky.edu.
OVR Statewide Deafblind Coordinator Sought
The Office of Vocational Rehabilitation is currently seeking a Vocational Rehabilitation is seeking a Kentucky DeafBlind Coordination (Program Specialist II) to perform independent professional vocational rehabilitation functions such as vocational or technology assessments, rehabilitation technology, job development and job placement, supported employment, vocational evaluation, rehabilitation instruction, basic public relations and/or marketing functions in a rehabilitation program. Please note, the advertisement for this position states the position is working out of Louisville only. However, this position can be housed in Frankfort, Lexington, or Louisville. For view the position, click here.
________________________________________________________________
<![if !vml]>

<![endif]>
DSA Conference June 24-30, Hollywood, FL
<![if !vml]>

<![endif]>The Deaf Seniors of America's biennial conference provides educational sessions, activities, and great opportunities for deaf senior citizens to connect with each other. This year's conference is in Hollywood, Florida, at the Hard Rock Casino Hotel, June 24-June 30, 2023 and is for anyone 50 and older. For registration information, click here.
HLAA Convention in New Orleans, LA June 29-July 1
<![if !vml]>

<![endif]>The Hearing Loss Association of American's (HLAA) 2023 Convention is June 29 – July 1 in New Orleans, Louisiana! This year's convention in the "Big Easy" promises to be action packed with educational workshops, demo presentations, an exhibit hall, social events, and a research symposium. For more information, click here.
Deaf Women United Opens 2023 Conference Registration
Deaf Women United has opened registration for the 2023 conference, Soar with the Wind," that will be held in Chicago, July 26 to July 30. The conference includes attendees from all walks of life: women of inspiration and interpersonal connection. For more information, click here.
National Black Deaf Advocates Conference, August 8-13
<![if !vml]>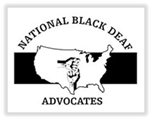 <![endif]>The National Black Deaf Advocates (NBDA) conference, "Reconnecting to Thrive Together: Reconnect, Recharge, Thrive!" is set for August 8-13 at the Sheraton Birmingham Hotel in Alabama. All diverse people including deaf, deafblind, hard of hearing, hearing, educators, professionals, federal employees, veterans, senior citizens, parents, activists, CODAs, students, recent graduates, service providers, interpreters, allies, and more are welcome to attend. For registration information, click here.
ALDAcon 2023 Conference Date Change to Oct. 30-Nov. 3
Due to unforeseen circumstances with the host hotel's renovation project, the Association of Late-Deafened Adults (ALDA) Conference Planners and the ALDA Board exhausted all viable options and made the tough decision to shift our dates. Originally planned for Nov. 1-5, 2023, ALDAcon will now take place Oct. 30-Nov. 3, 2023. For hotel refunds and more information, visit here.
<![if !vml]>

<![endif]>
Here's What Galaxy Watch Universal Looks Like
In Samsung's new beta take on Wear OS 4, the Galaxy Watch gains Universal Gestures, which let you control your watch without touching the screen. Here's a first look at how the new tool works.
As a whole, the modern consumer tech industry has geared itself increasingly more and more toward accessibility. That means features that aid those with limited vision or blindness, who are deaf or hard of hearing, or who even have dexterity limitations are all becoming increasingly more common. Read more here.
Intel Makes Technology Accessible for People with HL
Technology is increasingly central to every aspect of human existence. It has the potential to unlock powerful new possibilities, such as helping people hear what they wouldn't be able to hear on their own.
More than 1.5 billion people worldwide live with hearing loss, and the World Health Organization predicts that by 2050 that number will increase to more than 2.5 billion people.
Technology is integral to helping people with disabilities live independently and participate fully in all aspects of life. Within Intel, there is a movement to improve accessibility for people with hearing loss from multiple angles. Several projects are ongoing at Intel to increase access to assistive devices and improve their integration with other technologies. Read more here.
PLEASE VISIT KCDHH'S
<![if !vml]>

<![endif]>
IF YOU HAVE AN EVENT YOU'D LIKE TO LIST ON THE CALENDAR, PLEASE EMAIL US AT:
KCDHH Resources:
KCDHH's Telecommunications Access Program (TAP)
Landline or wireless equipment for Kentucky residents who are deaf, hard of hearing, speech impaired, or have both a hearing and vision loss.