VOLUME 41, NO. 7                                                                                               JULY, 2023
KY Sign Language Interpreters 'Servants at Heart'
By Sara Ladd, Kentucky Lantern
<![if !vml]>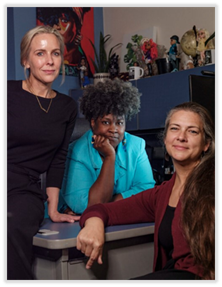 <![endif]>FRANKFORT – Sign language interpreters aren't quite used to celebrity.
The job is usually more behind-the-scenes. Translating a diagnosis at the doctor's office, standing off to the side of a stage.
But the COVID-19 pandemic thrust the late Virginia Moore — and her office, the Kentucky Commission on the Deaf and Hard of Hearing (KCDHH) — into the limelight. Moore and her colleagues signed the televised news conferences that Gov. Andy Beshear held and started a wave of conversation about accessibility and the dignity of communication and access to information. Read more here.
_________________________________________________________________
American with Disabilities Act Anniversary
<![if !vml]>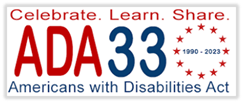 <![endif]>KCDHH is proud to support the Americans with Disabilities Act's (ADA) 33rd Anniversary. On July 26, we celebrate this important civil rights law that prohibits discrimination against individuals with disabilities in all areas of public life, including jobs, schools, transportation, and all public and private places that are open to the general public.
July is also Disability Pride month. It is a time to honor the history, achievements, experiences and struggles of the disability community.
_________________________________________________________________
KELC Seeks Input on Barriers to Technology/Internet
<![if !vml]>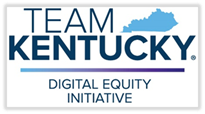 <![endif]>The Kentucky Education and Labor Cabinet (KELC) is seeking input from the public to help identify and eliminate barriers to technology and high-speed internet access.
Gov. Andy Beshear just secured nearly $1.1 billion in federal funding to bring affordable, reliable high-speed internet service to every Kentuckian, and you can help your community by completing this brief survey: https://shorturl.at/bwN24.
Through his Better Internet Plan, the Governor is committed to ensuring every Kentuckian has access to reliable and affordable high-speed internet and the skills, devices and resources necessary to take full advantage of it. Visit this website to learn more about the Governor's Digital Equity Initiative: https://shorturl.at/ksvGQ.
 __________________________________________________________________
Kentuckians Can Start Betting on Sports Soon
<![if !vml]>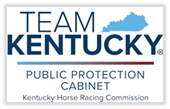 <![endif]>Gov. Andy Beshear joined the Kentucky Horse Racing Commission and lawmakers to announce on July 10 that Kentuckians can make their first-ever sports bets in Kentucky on September 7, just in time for the National Football League's kickoff, tailgating, and the college football season. Mobile applications will be available on September 28. To see other facilities eligible to apply to be a sports betting location by clicking here. To read the full story, visit here.
___________________________________________________________________
Annual Deaf Awareness Day at Louisville Zoo, August 20
<![if !vml]>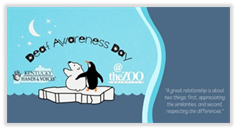 <![endif]>The 5th Annual Deaf Awareness Day at the Louisville Zoo will be Saturday, August 20. Discounted tickets are available for friends and family members: children (ages 3-11) $12 each, adults (ages 12-59) $17 each, seniors (ages 60+) $12 each. Children under two years of age are free. If you have a child who is deaf or hard of hearing and is a Kentucky resident, your child will also receive a free ticket. Pre-register before August 18. Email info@kyhandsandvoices.org for more information.
__________________________________________________________________
<![if !vml]>

<![endif]>
Anyone interested in attending a summer camp for deaf and hard of hearing students, the Kentucky School for the Deaf Outreach Consultants have compiled a list. Click here for information on camps held in Kentucky in-person, online, and out of state.
_________________________________________________________________
<![if !vml]>
<![endif]>
UK Invites Applicants to Apply for Part-Time ASL Position
The University of Kentucky Department of Modern and Classical Languages, Literatures & Cultures at the University of Kentucky in Lexington, Kentucky invites applications for the position of part-time instructor (PTI) in American Sign Language, to begin August 2023. They are currently seeking an experienced instructor to teach two sections (3 credit hours each) of beginning American Sign Language, ASL 101, in the Fall 2023 semester, in person. The Fall 2023 semester runs August 21, 2023-December 15, 2023. 
Ideally, instructors would have an M.A. degree (M.A. degrees in ASL and/or certification from the ASLTA will be prioritized), but candidates with a B.A. and significant relevant teaching experience will also be considered. The salary will be a minimum of $3,330, depending on degree and experience, for each 3-hour class. Flexibility with respect to the teaching schedule may be possible.  Applicants interested in the position should send a brief letter of application by email, an updated CV, and contact information to Dr. Jeffrey Peters, Chair, Department of Modern and Classical Languages, Literatures, and Cultures: jnp@uky.edu.
________________________________________________________________
<![if !vml]>

<![endif]>
National Black Deaf Advocates Conference, August 8-13
<![if !vml]>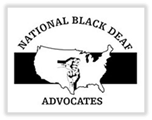 <![endif]>The National Black Deaf Advocates (NBDA) conference, "Reconnecting to Thrive Together: Reconnect, Recharge, Thrive!" is set for August 8-13 at the Sheraton Birmingham Hotel in Alabama. All diverse people including deaf, deafblind, hard of hearing, hearing, educators, professionals, federal employees, veterans, senior citizens, parents, activists, CODAs, students, recent graduates, service providers, interpreters, allies, and more are welcome to attend. For registration information, click here.
ALDAcon 2023 Conference Extends Early-Bird Registration
The Association of Late-Deafened Adults (ALDA) has extended its early-bird registration until July 21. To register, click here. Originally planned for Nov. 1-5, 2023, ALDAcon will now take place Oct. 30-Nov. 3, 2023. For hotel refunds and more information, visit here.
NAD Leadership Conference, September 21-23
<![if !vml]>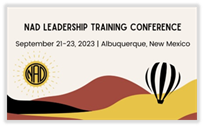 <![endif]>The National Association of the Deaf's (NAD) Leadership Training Conference (NLTC) is September 21-23 in Albuquerque, NM and is designed to provide deaf and hard of hearing people and hearing allies with the best workshops, training, and interactions to promote improved leadership skills for many purposes: employment advancement, organizational operation, and interpersonal interaction. Register here by August 31.
<![if !vml]>

<![endif]>
How to Make iPhone's LED Flash When Getting Call/Text
Your iPhone's LED can flash whenever you get a notification or a phone call. Here's how to enable it.
<![if !supportLists]>1. <![endif]>Open the Settings app on your iPhone and navigate to Accessibility.
<![if !supportLists]>2. <![endif]>Go to Audio/Visual under Hearing.
<![if !supportLists]>3. <![endif]>Swipe to the bottom of the Audio/Visual settings, then tap on LED Flash for Alerts.
<![if !supportLists]>4. <![endif]>Toggle on LED Flash for Alerts.
While following the above steps will enable the LED flash for alerts, they will only trigger when your iPhone is locked and Silent mode is disabled. Read more here.
Best iPhone/iOS Apps Available for Hearing Loss
Did you know that mobile applications can be an invaluable tool to improve the quality of life of people with hearing disabilities? That's right, the App Store not only offers motivational and educational teaching apps for people, but also has apps specifically designed to help those with a hearing loss to overcome barriers and perform daily tasks more easily and independently. Read what Gearrice says are the best apps here.
PLEASE VISIT KCDHH'S
<![if !vml]>

<![endif]>
IF YOU HAVE AN EVENT YOU'D LIKE TO LIST ON THE CALENDAR, PLEASE EMAIL US AT:   kcdhh@ky.gov
KCDHH Resources:
KCDHH's Telecommunications Access Program (TAP)
Landline or wireless equipment for Kentucky residents who are deaf, hard of hearing, speech impaired, or have both a hearing and vision loss.