VOLUME 41, NO. 8                                                                                                       AUGUST, 2023
KCDHH Executive Director Search Underway
<![if !vml]>

<![endif]>

The Kentucky Commission on Deaf and Hard of Hearing (KCDHH) is seeking an Executive Director to serve at the direction of the Board of Commissioners to carry out the mission of the agency.

The KCDHH's mission is to provide effective and efficient leadership, education, advocacy, and programs to eliminate barriers and to meet the social, economic, cultural, and intellectual needs of deaf and hard of hearing Kentuckians.

This position will be responsible for creating, promoting, and maintaining the agency philosophy of inclusion and fairness for all individuals regardless of hearing identity and communication choice. To apply, visit the Team Kentucky Personnel by clicking here. Deadline to apply is September 3.

_________________________________________________________________

KCDHH Commissioners Add Emeritus Members

The Kentucky Commission on the Deaf and Hard of Hearing (KCDHH) recently added a new category of delegates to the Commission Board known as Emeritus members. Emeritus members are highly respected individuals who have served on the KCDHH board. These delegates primary purpose will be to support, advise, and provide expertise to the Board.

<![if !vml]> <![endif]>
KCDHH's first-ever Emeritus members include Amy Hatzel, Catlettsburg, who has served on the Board in various positions, and Dr. Patricia Freeman, Lexington, who has also served on the Board. Each will serve one-year terms.




<![if !vml]> <![endif]>
The Board also recognized members whose terms expired, which also included Hatzel and George "Buzzy" Tunstall IV, from Louisville. They were presented with certificates of appreciation, signed by Governor Beshear. See the presentations below: Photographed left is Board Chair, Dr. Tommy Evans, presenting to Amy Hatzel, and right is Evans presenting to Buzzy Tunstall.



__________________________________________________________________



<![if !vml]>
__________________________________________________________________
DeaFestival Rappers
Changing What It Means for Music to be Heard
<![if !vml]>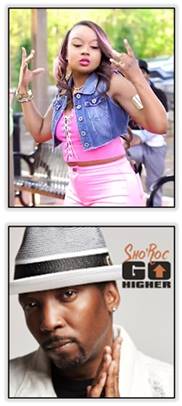 <![endif]>In April 2023, DJ Supalee hosted Supafest Reunion 2023 to celebrate entertainers and promoters within the U.S. Deaf community. The event included performances by several from Kentucky's DeaFestival lineup, including R&B artist and rapper Sho'Roc, photo bottom left, and female rapper Beautiful The Artist, see photo left.
As hip-hop reaches its 50th anniversary, five decades of its cultural impact reverberates in mainstream and underground settings. In 2005, the rapper Warren "Wawa" Snipe came up with the term "DIP HOP" in ASL and English to classify a developing style of rap music within the Deaf community. In 2010, Detroit-based rapper and National Technical Institute for the Deaf alumnus Sean Forbes, signed a contract with WEB Entertainment and released the single "I'm Deaf," attracting mainstream attention to this style of rap. Both Snipe and Forbes perform at KCDHH's biennial DeaFestival. Read more about deaf rappers history here.
_________________________________________________________________
Kentucky CHFS Caregiver Program Expanded
<![if !vml]>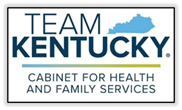 <![endif]>Governor Andy Beshear announced that due to record budget surpluses and the largest Rainy Day Fund in state history, the Kentucky Caregiver Program will be expanded to all Area Development Districts. The program, established in 2006, was designed to support grandparents of any age who are raising grandchildren and who meet income and other guidelines. Grandparents raising a grandchild can find out if they are eligible to apply by contacting their local Area Development District or the Department for Aging and Independent Living in the Cabinet for Health and Family Services (CHFS).
__________________________________________________________________
Kentucky Sports Wagering Opens September 7
<![if !vml]>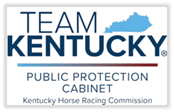 <![endif]>One month after announcing that sports wagering will open in Kentucky September 7 at retail locations and September 28 for mobile applications, Gov. Andy Beshear said the Kentucky Horse Racing Commission (KHRC) has received applications from seven of the state's licensed racetracks. They include Churchill Downs, Louisville; Cumberland Run, coming soon to Corbin; Ellis Park, Henderson; Oak Grove Gaming and Racing, Oak Grove; The Red Mile, Lexington; Sandy's Gaming and Racing, coming soon to Ashland; and Turfway Park, Florence. Applications are being reviewed by KHRC staff and will be voted on at a meeting of the full commission August 22. For more information about sports wagering, visit KHRC.ky.gov.
___________________________________________________________________
BlueOval SK Now Hiring for Battery Plant in Hardin County
<![if !vml]>

<![endif]>BlueOval SK battery plant in Hardin County is searching for prospective employees. The company is building two plants to provide batteries for Ford and Lincoln electric vehicles – one in Glendale (Hardin County) and another in Tennessee. Construction is on schedule at the two massive battery manufacturing facilities that will be capable of collectively producing more than 80 gigawatt hours annually. When completed, BlueOval SK's two battery plants at the site will each measure approximately 4 million square feet each. They will also train 5,000 new workers at this new training center, located on the 1,500-acre BlueOval SK Battery Park site. For more information on employment, click here.
___________________________________________________________________
UK Cannabis Center Sponsors Seminar on Medical Cannabis
<![if !vml]>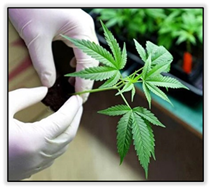 <![endif]>Medical cannabis becomes legal in Kentucky on July 1, 2024, after the passage of legislation this year by the General Assembly, so The University of Kentucky (UK) Cannabis Center is sponsoring a series of seminars featuring national and international experts on cannabis science. This series is to give UK students, faculty and the general public the chance to hear cutting-edge cannabinoid science across a wide variety of specialties (medicine, pharmacology, public health, impaired driving science, agriculture, legal and social justice). The seminar is co-sponsored by the UK Center for Health Equity Transformation, and will be held via Zoom on Tuesday, Aug. 22, from 11 a.m. to noon, (ET). It is open to all, and you can register online here.
_________________________________________________________
Annual Deaf Awareness Day at Louisville Zoo, August 19
<![if !vml]>
<![endif]>The 5th Annual Deaf Awareness Day at the Louisville Zoo will be Saturday, August 19. Discounted tickets are available for friends and family members: children (ages 3-11) $12 each, adults (ages 12-59) $17 each, seniors (ages 60+) $12 each. Children under two years of age are free. If you have a child who is deaf or hard of hearing and is a Kentucky resident, your child will also receive a free ticket. Pre-register before August 18. Email info@kyhandsandvoices.org for more information.
________________________________________________________________
Meet Dougie, Bluey's First Deaf Character Who Signs
The story goes like this; Bingo finds a toy turtle at the playground and wants to take him home, but Dad says it's not the done thing.  What if his owner comes back to find him? Later, Dougie and his Mum also play with Turtleboy and decide to leave him there too. But Bingo and Dougie both love playing with Turtleboy so much that they start to hide him … and so it plays out.
Bluey is an Australian animated preschool television series which premiered on ABC Kids on 1 October 2018. The show follows Bluey, a anthropomorphic six-year-old Blue Heeler puppy who is characterized by her abundance of energy, imagination and curiosity about the world. The young dog lives with her father, Bandit; mother, Chilli; and younger sister, Bingo, who regularly joins Bluey on adventures as the pair embark on imaginative play together.
Now in this Bluey first, we've been treated to an additional layer of meaning in Turtleboy. Newcomer Dougie, based on a cavoodle, is profoundly deaf and uses Auslan to communicate with his mum (voiced by Miranda Tapsell).  To authentically create each Auslan interaction between Dougie and his mum, Ludo collaborated with consultants from Deaf Connect; Australia's largest provider of whole-of-life support for the Deaf, hard of hearing and deafblind communities. To watch the Bluey episode, click on the graphic below.
<![if !vml]>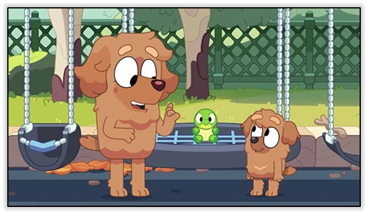 <![endif]>
_________________________________________________________________
<![if !vml]>

<![endif]>
American Sign Language Interpreter: Two Positions Open
The New Albany Floyd County - Consolidated School Corporation in Indiana is currently seeking two American Sign Language (ASL) interpreters to fill two positions. For more information, visit the school  site here.
Deaf Peer Support Specialists Sought
Are you Deaf? Hard of Hearing? A child or sibling of a person who is Deaf or Hard of Hearing? Do you have experience with mental health or substance misuse? Would you like to help other people live a full and happy life? The Department for Behavioral Health, Developmental, & Intellectual Disabilities (DBHDID) is partnering with Bridgehaven to recruit and train up to five people to work with individuals who are Deaf, Hard of Hearing, DeafBlind, or DeafDisabled. To watch an ASL signed video, click here. To request an application, contact Michelle Niehaus at michelle.niehaus@ky.gov or call or text 502-892-9122 or leave a message on VP at 502-385-0460.
DeafBlind Employment Specialist Position Open
A DeafBlind Employment Specialist position is open with Helen Keller DeafBlind Services in Louisville. The primary focus will be to provide one on one services to consumers to assist with achievement of employment outcomes, with a commitment to a fully inclusive community-based environment. For more information, visit here.
<![if !vml]>

<![endif]>
Stanford Students Create AI Glasses that Transcribe Speech in Real-Time for Deaf People
PLEASE VISIT KCDHH'S
<![if !vml]>

<![endif]>
KCDHH Resources:
KCDHH's Telecommunications Access Program (TAP)
Landline or wireless equipment for Kentucky residents who are deaf, hard of hearing, speech impaired, or have both a hearing and vision loss.