VOLUME 41, NO. 4                                                                                             APRIL, 2023
KCDHH Participates in KY HEARS Clinic
<![if !vml]>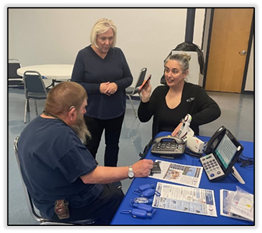 <![endif]>KCDHH's Telecommunications Access Program Coordinator, Jessica Endler Smith, participated in the Kentucky Hearing Healthcare Equal Access Reaching Statewide) KYHEARS clinic in Lawrence County on March 30. She demonstrated KCDHH's equipment to deaf and hard of hearing participants. KY HEARS is a statewide hearing healthcare initiative of Heuser Hearing Institute, Louisville, who have worked with legislators to develop a plan to close the education and achievement gaps for individuals who are deaf and hard of hearing throughout the state. Read more about KY HEARS here.
________________________________________________________________
April is National Deaf History Month
<![if !vml]>
<![endif]>
National Deaf History Month during April celebrates the contributions and accomplishments of people who are deaf and those who are hard of hearing and raises awareness for the Deaf community. The National Association of the Deaf first introduced National Deaf History Month in 1997, and in 2006, the American Library Association partnered with NAD in supporting and spreading awareness of this celebration. Initially, the month was celebrated from mid-March to mid-April. Then in March 2022, the National Association of the Deaf released a statement changing the dates to April 1-30 based on feedback from the NAD Deaf Culture and History Section and various stakeholders, including from organizations that represent marginalized communities within the Deaf Community.
Deaf History Important Sites:
April 10, 1823 — Kentucky School for the Deaf, Danville, founded.
April 15, 1817 — The American School for the Deaf, the first public permanent school for Deaf children in the United States, was opened. Located in West Hartford, Connecticut, the school is a nationally renowned leader in providing comprehensive educational programs and services for Deaf and hard-of-hearing students.
Encyclopedia Britannica: History of the Deaf includes information dating back to the 16th century.
People and Events in Deaf History
________________________________________________________________________
Read Feature Story on KSD's 200th Anniversary
<![if !vml]>

<![endif]>The Kentucky School for the Deaf (KSD) was recently featured in the Kentucky Teacher, a publication of the Kentucky Department of Education. The article discussed KSD's long history of addressing the educational needs for deaf and hard of hearing students and its 200th Anniversary celebration. Read the article by clicking here.
__________________________________________________________________
KCDHH Looking to Fill Parent Rep Board Vacancy
<![if !vml]>

<![endif]>Do you want to make a change in the lives of deaf and hard of hearing consumers? The Kentucky Commission on the Deaf and Hard of Hearing (KCDHH) is looking for a committed individual who will be involved in an exciting phase of development within state government.
The KCDHH Parent Representative is currently vacant. Applicants may be deaf, hard of hearing or hearing, but must have a child that has a hearing loss. The Parent Representative serves a three-year term, which will begin July 1, 2023 and expire June 30, 2026.
If you or someone you know is interested in serving on the KCDHH Board please complete (or share with an interested party to complete) the Kentucky Commission on the Deaf and Hard of Hearing Commission Membership Application Form, then print and mail to the following address: Amy Hatzel, Chair, 632 Versailles Road, Frankfort, KY 40601.
_______________________________________________________________
FCC Helping Households Connect
<![if !vml]>

<![endif]>Gov. Beshear announced April 7 that Kentucky has been recognized as one of the top five states and territories in the United States for getting eligible households signed up for the Affordable Connectivity Program (ACP). Nearly 40% of eligible Kentuckians have signed up.
The ACP helps ensure households can afford high-speed internet for work, school, health care and more. The benefit provides a discount of up to $30 per month toward internet service for eligible households. Eligible households can also receive a one-time discount of up to $100 to purchase a laptop, desktop computer, or tablet from participating providers if they contribute more than $10 and less than $50 toward the purchase price. To learn more about the ACP and its eligibility, click here.
________________________________________________________________
Thurby Day Luncheon May 4, Bet on Sound Beginnings
<![if !vml]>

<![endif]>A Thurby Day Luncheon benefiting The Hearing & Speech Center, Lexington will be held on Thursday, May 4, at the Signature Club of Lansdowne.
In the spirit of the Kentucky Derby 2023, Tom Leach, "The Voice of the Kentucky Wildcats," will share and breakdown the 149th Kentucky Derby field and share his top picks for the greatest two minutes in sports! For ticket or sponsorship table Information, click here or email Sharon.michael@hscky.org.
_________________________________________________________________
UofL Hosts Silent Weekend for ASL Learners/Interpreters
<![if !vml]>

<![endif]>
The University of Louisville is hosting the first silent weekend May 19-21 aimed at American Sign Language (ASL) learners and working interpreters. All workshops will be taught in ASL with no English interpretation. There will also be ASL skill development classes that will be continuing educational units (CEU).
Included in the registration are some meals. On campus housing is available for an additional fee. For event information, click here. To register, click here. Register by April 18.
_____________________________________________________________
Kentucky Hands & Voices Host SuperHEARo 5K May 20
<![if !vml]>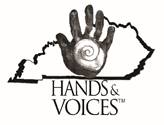 <![endif]>Join Kentucky Hands & Voices for the 6th annual SuperHEARo 5K at White Hall State Historic Site, 500 White Hall Shrine Road in Richmond on May 20. The 1-Mile Fun Run (non-timed event) will take place at 9 a.m. followed by the 5K (a timed event) at 9:30 a.m. In addition to an in-person event at White Hall State Historic Site, there will also be a virtual option you can join from near or far! Participants are encouraged to dress up as their favorite superhero. Packet pick-up will be available at Surge Screenprinting on Friday, May 19 or prior to the race on Saturday beginning at 7:30am.
Awards will be given for top overall male and female finishers in the 5K, as well as Best Dressed Male & Female Superheroes. There will also be a prize for the Best Dressed Wonder Pet. Medals will be awarded for the top three finishers in various age categories. To signup, click on the logo below.
<![if !vml]>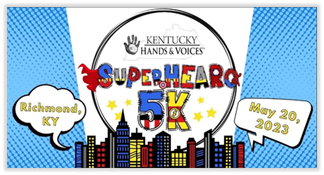 <![endif]>_______________________________________________________________
<![if !vml]>

<![endif]>
Deaf Women United Opens 2023 Conference Registration
Deaf Women United has opened registration for the 2023 conference that will be held in Chicago, July 26 to July 30. The early-bird rate is available through February 28. For more information, click here.
ALDAcon 2023 Call for Papers Now Open: Deadline May 1
<![if !vml]>

<![endif]>The Association of Late-Deafened Adults (ALDA) is accepting workshop proposals for the 34th Annual International Convention, November 1-5, 2023 at the Sheraton Austin Hotel at the Capitol in Austin, Texas. If you have a workshop idea that will enrich the hearing loss community, you are invited to complete and submit the Call for Papers form to the Program Committee by May 1.
DSA Conference June 24-30, Hollywood, FL
<![if !vml]>

<![endif]>The Deaf Seniors of America's biennial conference provides educational sessions, activities, and great opportunities for deaf senior citizens to connect with each other. Every conference is hosted in a new city and region, providing members with the opportunity to explore a new location each conference with guided tours. This year's conference is in Hollywood, Florida, at the Hard Rock Casino Hotel, June 24-June 30. The conference committee strives to provide an optimal, interactive environment for deaf senior citizens where full access is given for all. Anyone 50 and older may attend. For registration information, click here.
HLAA Convention in New Orleans, LA June 29-July 1
<![if !vml]>

<![endif]>The Hearing Loss Association of American's (HLAA) 2023 Convention is June 29 – July 1 in New Orleans, Louisiana! This year's convention in the "Big Easy" promises to be action packed with educational workshops, demo presentations, an exhibit hall, social events, and a research symposium. The keynote speaker for the general session will be Dr. K. Renee Horton, who currently serves as the Space Launch System (SLS) Quality Engineer in the NASA Residential Management Office at Michoud Assembly Facility (MAF) in New Orleans.  She worked for NASA, first as a student from 2009 to 2011, and then started her career as a mechanical test engineer in 2012. Dr. Horton is a native of Baton Rouge, Louisiana and lifelong lover of science and NASA. A graduate of Louisiana State University with a B.S. of Electrical Engineering with a minor in Math in 2002 and a Ph.D. in Material Science with a concentration in Physics, becoming the first African American to graduate from the University of Alabama in 2011 in this area. For more information and to register, click here.
National Black Deaf Advocates Conference, August 8-13
<![if !vml]>

<![endif]>The National Black Deaf Advocates (NBDA) conference, "Reconnecting to Thrive Together: Reconnect, Recharge, Thrive!" is set for August 8-13 at the Sheraton Birmingham Hotel in Alabama. All diverse people including deaf, deafblind, hard of hearing, hearing, educators, professionals, federal employees, veterans, senior citizens, parents, activists, CODAs, students, recent graduates, service providers, interpreters, allies, and more are welcome to attend. For registration information, click here.
<![if !vml]>

<![endif]>
See How Easy It Is to Use Hamilton Mobile CapTel
<![if !vml]>
<![endif]>Curious about how easy it is to use the all-new Hamilton Mobile™ CapTel® app for iOS? Check out a short video here that shows some of the most popular and useful features of this user-friendly Captioned Telephone app.
Integrated Sorenson Interpreting for Zoom
<![if !vml]>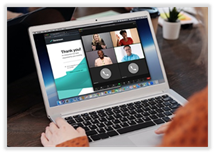 <![endif]>You now have better solutions for inviting a Sorenson interpreter into your virtual meetings to make using Zoom for deaf and hearing collaboration better than ever.  You may have used Video Relay Services (VRS) for your Zoom meetings before—but not like this. Sorenson's first-of-its-kind solution for Zoom VRS enables you to invite their highly skilled American Sign Language (ASL) interpreters directly into your Zoom call so you can see everything on one screen—and so can everyone else. Sorenson for Zoom improves multilingual support and collaboration for deaf and hearing connections. Read more here.
Safewave Technology Lauches New Product
<![if !vml]>

<![endif]>Safewave's smart wristband connects via Bluetooth to fire alarms, Ring cameras and security devices — essentially turning any notification or alert into a vibration. The company's initial product targets those who are deaf or hard of hearing but future generations will cater to those with dementia, Alzheimer's and special needs. Read more here.
PLEASE VISIT KCDHH'S
<![if !vml]>

<![endif]>
IF YOU HAVE AN EVENT YOU'D LIKE TO LIST
ON THE CALENDAR, PLEASE EMAIL US AT:
COVID-19 Vaccine Resources
International:
Centers for Disease Control and Prevention (CDC)
National:
Federal Emergency Management Agency (FEMA)
What You Should Know About COVID-19 and the ADA, the Rehabilitation Act, and Other EEO Laws
Kentucky:
The official Team Kentucky source for Vaccine
Kentucky Registry of Vaccine Location
KCDHH COVID-19/Vaccine Important Links for Deaf and Hard of Hearing
Apps:
For those who have deaf family members who use sign language, consider downloading Sorenson Wavello and/or the ZVRS Sivo   app on your smartphone. This app makes it possible for you to see your loved ones on your screen next to your interpreter.
Other KCDHH Resources:
KCDHH's Telecommunications Access Program (TAP)
Landline or wireless equipment for Kentucky residents who are deaf, hard of hearing, speech impaired, or have both a hearing and vision loss.