Flood Victims Register on Team Kentucky
<![if !vml]>

<![endif]>If you were affected by the flooding in Eastern Kentucky that began on July 26 and have needs like sheltering, financial assistance or other needs, there may be an organization that can help. Please register online to help determine how Team Kentucky and their partners can meet your post-disaster needs. Register here. For a list of resources available, visit flood resources. Resources are added as they become available.
If you are deaf or hard of hearing and lost your phone during the flood, please contact the KCDHH office at 502-573-2604 (V), 502-416-0607 (VP), or 800-372-2907. You can also find more information about our Telecommunications Access Program (TAP) by clicking here.
Individuals seeking emergency sheltering in travel trailers can find more information and register at governor.ky.gov/FloodResources or call 502-234-1225 to register.
Donations can be made at TeamEKYFloodReliefFund.ky.gov.
___________________________________________________________________
International Week of Deaf People: September 19-25
<![if !vml]>

<![endif]>The World Federation of the Deaf will celebrate International Week of Deaf People on Sept. 19-25. This year's theme is building inclusive communities for all. Daily themes include: Sept. 19-Sign Languages in Education, Sept. 20-Sustainable Economic Opportunities for Deaf People, Sept. 21-Health for All, Sept. 22-Safeguarding Deaf People in Times of Crisis, Sept. 23-Sign Languages Unite Us!, Sept. 24-Intersectional Deaf Communities, and Sept. 25-Deaf Leadership for Tomorrow. For more information, click here.
___________________________________________________________________
International Day of Sign Languages, September 23
The World Federation of the Deaf extends an invitation to join them for the 2022 celebration of the International Day of Sign Languages on Sept. 23. The WFD will once again highlight the unity generated by sign <![if !vml]>

<![endif]>languages. They ask all country leaders - whether Prime Ministers, Presidents, other government officials, members of parliaments, members of city council to sign this year's theme "Sign Languages Unite Us!" in their national sign language. For more information about this challenge, please click here.
_________________________________________________________________________
FDA to Allow Over the Counter Sales of Hearing Aids
<![if !vml]>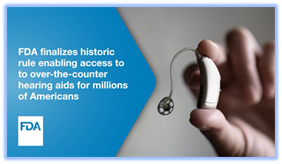 <![endif]>The FDA announced in August that people will soon be able to purchase hearing aids over the counter. While people who work with the deaf and hard of hearing are optimistic that this could help bring prices down, they're also concerned that people might skip doctors altogether.
Virginia Moore, Executive Director of the KCDHH, said high costs are a big problem for people who need hearing aids.
"Hearing aids can be from $1,400 to $5,000 for just one hearing aid. If you need two, can you just imagine the cost? You have to take out a loan. It's an issue," she said
The Food and Drug Administration announced Tuesday a rule they say will improve access and they hope will lower costs by making certain hearing aids available over the counter.
Under the rule, people with perceived mild-to-moderate hearing impairment can buy the devices directly from stores or online without an exam or fitting. The ability to get the devices without a prescription certainly makes them more accessible for people who might need them, but Moore is concerned about the idea of cutting out a professional altogether.
"If your hearing is healthy and your ear is healthy, maybe then they can say, yes, go to the over-the-counter. Maybe low-to-moderate would work for you, and that's great because the cost would help, but you need to get it checked out first. Our fear is that people won't. They'll go get a hearing aid and wear it, amplify it, maybe it's not the right amplification. We need to push people to see an audiologist, an ENT, we need to push people to go see a specialist to talk about the health of your ear first," she said. Read more here.
________________________________________________________________________
Stay Up to Date with COVID-19 Vaccines & Boosters
The updated COVID-19 booster provides protection against the original strain of the virus that causes COVID-19, as well as the BA.4 and BA.5 Omicron subvariants. These newer subvariants are more contagious and able to evade protection that your body might have against earlier subvariants.
<![if !vml]>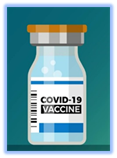 <![endif]>
CDC recommends that everyone ages 12 years and older in the United States receive an updated COVID-19 booster. Like the original boosters, the updated doses help restore protection that might have gone down since your last dose.
Everyone who is eligible―including those who are moderately to severely immunocompromised―is recommended to receive one dose of the updated bivalent booster at least two months after their last dose (either the final dose of the primary series or the last booster shot). Click here for more information.
_______________________________________________________________________
988 Mental Health Crisis Lifeline Here to Help Save Lives
<![if !vml]>

<![endif]>Kentucky has launched the easy-to-remember three-digit mental health crisis hotline, 988, which connects Kentuckians facing a risk of suicide, mental health distress or an addiction crisis to compassionate and trained counselors who can help.
The 988 suicide and crisis lifeline is available every hour of every day, and counselors respond to calls, chats or text messages directly from Kentuckians in need as well as those who are concerned about a loved one who may need crisis support. For more information, visit the new 988 website at 988.ky.gov.
________________________________________________________________
National Deaf Therapy is Now Accepting New Clients
<![if !vml]>

<![endif]>National Deaf Therapy (NDT) is a virtual-based mental health counseling service for the Deaf, DeafBlind, DeafDisabled, Hard-of-Hearing, and Late-Deafened populations by a team of Deaf Licensed Therapists.
They have received multiple requests for information and resources to be shared about Mental Health. NDT provides mental health therapy services, Wellness Subscription packages, and mental health training and workshops. They also offer partnership opportunities and can enroll in your company's EAP program if available. There are different ways we can support creating access to mental health services.
You can check out our website to learn more about KDT here.
__________________________________________________________________
$20 Million Grant to Deliver Internet to Unserved Areas
Gov. Andy Beshear announced August 31 another $20 million in grant funding to assist eligible internet providers with utility pole replacement costs. Expenses must be associated with expanding high-speed internet access in unserved areas, to residents and businesses currently without access or with low internet speeds. Read more here.
________________________________________________________________________
<![if !vml]>

<![endif]>
KCDHH Needs You…
<![if !vml]> <![endif]>
September's (2022) KCDHH Spotlight Q&A is with Justin Stanley, who is the Policy Specialist at KCDHH. Stanley's hometown is Milton, WV. He graduated from Cabell Midland High School in Ona, WV. He earned his Bachelor of Arts degree in Classics from the University of Richmond, VA and his Juris Doctor degree from the University of Kentucky College of Law. Stanley lives in Lexington with his wife, Christine, and their three dogs. Read more here.
____________________________________________________________________
<![if !vml]>

<![endif]>
Hidden Legacies of Helen Keller Coming to Louisville
The  American Printing House for the Blind (APS) and the Filson Historical Society, both in Louisville, are sponsoring a two-day symposium on September 17-18 at APS that explores, from dynamic and diverse perspectives across the spectrum of disability history scholarship and experiences, the hidden historical legacy and context of this great American. Standard admission is $75 person and $25 for students. Admission for APH staff and Filson Historical Society members is free. To register for the symposium, click here.
Kentucky Walk4Hearing Set for October 8
The Kentucky Walk4Hearing will be held on Saturday, October 8, at the Beckley Creek Park, 1411 Beckley Creek Parkway. Registration begins at 8 a.m. Stage presentation will be at 9 a.m. and the walk will start at 9:15 a.m. To register your team, click here.
KY Hands & Voices Family Retreat, October 14-16
Do you have a child with hearing loss between the ages of five and 17? Make plans to join Kentucky Hands & Voices on October 14-16 at the Center for Courageous Kids in Scottsville, Kentucky for an amazing family retreat. IT'S FREE! Space is limited, so apply early. Activities include fishing, archery, mini golf, swimming, horseback riding, crafts, woodworking, and more! Register here.
KSD Spelling Bee Dates Set to Begin October 17
The Deaf and Hard of Hearing Spelling Bee is a written spelling event and set for several locations. Volunteers are also needed.  Click here for registration information.
Tickets on Sale for KSD Gala, April 15, 2023
<![if !vml]>

<![endif]>
PLEASE VISIT KCDHH'S
<![if !vml]>
<![endif]>
COVID-19 Vaccine Resources
International:
Centers for Disease Control and Prevention (CDC)
National:
Federal Emergency Management Agency (FEMA)
What You Should Know About COVID-19 and the ADA, the Rehabilitation Act, and Other EEO Laws
Kentucky:
The official Team Kentucky source for Vaccine
Kentucky Registry of Vaccine Location
KCDHH COVID-19/Vaccine Important Links for Deaf and Hard of Hearing
Apps:
For those who have deaf family members who use sign language, consider downloading Sorenson Wavello and/or the ZVRS Sivo   app on your smartphone. This app makes it possible for you to see your loved ones on your screen next to your interpreter.
Other KCDHH Resources:
KCDHH's Telecommunications Access Program (TAP)
Landline or wireless equipment for Kentucky residents who are deaf, hard of hearing, speech impaired, or have both a hearing and vision loss.