<![if !vml]>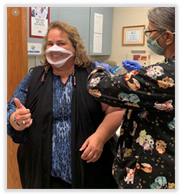 <![endif]>Time to Get Your Booster Shot
KCDHH Executive Director Virginia Moore (see photo) gets her second booster on September 16. The Center for Disease Control (CDC) recommends everyone stay up to date with their COVID-19 vaccinations, including all primary series and boosters. For vaccine and booster information, click here.
_____________________________________________________________
LFUCG Presents Proclamation to KCDHH
<![if !vml]>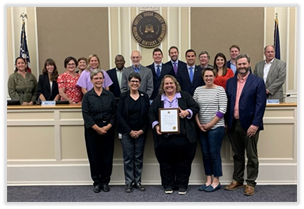 <![endif]>KCDHH staff members Virginia Moore, Executive Director, and Justin Stanley, Policy Specialist, and a volunteer for KCDHH, Jena White, attended a proclamation signing with the Lexington Mayor and Lexington-Fayette Urban County Council on September 22. The United Nations General Assembly proclaimed September 23 as the International Day of Sign Languages in order to raise awareness of the importance of sign language in the full realization of the human rights of people who are deaf.
________________________________________________________________
Fire Prevention Week, October 9-15
<![if !vml]>
<![endif]>This week was Fire Prevention Week, October 9 to October 15. If you are deaf or have trouble hearing, KCDHH can help you with equipment. Install a bedside alert such as a bed shaker alarm that works with your smoke alarm to alert you of a fire. Strobe light alarms can be added to your smoke alarms for a visual alert. Visit KCDHH's website to find out more about our Telecommunications Access Program (TAP).
________________________________________________________________
'Team Kentucky' Standard License Plate Option Coming
In addition to the current standard license plate design, the commonwealth soon will offer a new "Team Kentucky" standard license plate option. The Team Kentucky design showcases state pride, unity and strength, and pays homage to the commonwealth's famous Kentucky Bluegrass. The plates will be available for purchase in every county clerk's office starting Monday, October 24. Fees for standard issue plates remain $21 when it's time to renew. Kentuckians who would like to purchase the new standard plate before they are due to renew will pay $3. If you would like a new Team Kentucky plate, please contact your county clerk starting Monday, Oct. 24 to confirm the plates are available in your county. View the four plate options below.
<![if !vml]>

<![endif]>
________________________________________________________________
Arlen Finke 5K Run/Walk at KSD, October 22
<![if !vml]>

<![endif]>To help promote the 200th Anniversary of the Kentucky School for the Deaf (KSD), they will host the Arlen Finke 5K Run/Walk on Saturday, October 22, 9 a.m. The second annual event will be a 3.1 mile race that will start and finish on the KSD cross-country course on campus. For registration information, click here.
______________________________________________________________________
7ll and 988 Town Hall Meeting Set, October 27
<![if !vml]>

<![endif]>
Join the Kentucky Relay and Kentucky Department for Behavioral Health, Developmental, & Intellectual Disabilities Deaf & Hard of Hearing for a town hall meeting to share information about 711 and 988, on Thursday, October 27, 5 p.m. to 7 p.m. at Adanta, 130 Southern School Road, in Somerset. This meeting will provide information about how these phone numbers, services and resources can help your family, friends, and Kentuckians statewide communicate and stay connected! For more information, contact Peggy Ward at 615-739-7990 or peggy.ward@hamiltonrelaty.com.
________________________________________________________________
November 8 General Election Information
<![if !vml]>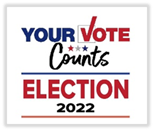 <![endif]>Kentucky's November 8 general election will decide races for the United States Senate and House of Representatives, the state's General Assembly and several state high courts. Here's some essential information for voters:
•Absentee voting: This option is available only to registered voters who meet certain criteria, including residents temporarily living out of state or voters who are unable to vote in person because of an illness or disability.
•Early in-person voting: All registered voters can vote early and in person on Thursday, November 3, Friday, November 4 and Saturday, November 5.
•In-person voting on Election Day: The state's general election is Tuesday, November 8. Polls are open from 6 a.m. to 6 p.m. local time.
To vote, you must have registered by October 11. You will need a photo ID that includes your name. Acceptable forms of identification include a Kentucky driver's license, U.S. passport or other photo ID issued by the federal, state or local government, the military, or a school such as a college or university. For voting information in your county, click here.
For more election and voting information, click on the videos below:
<![if !vml]>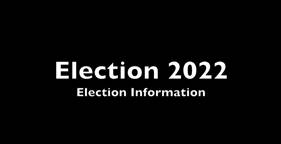 <![endif]>
<![if !vml]>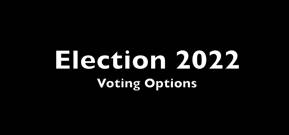 <![endif]>
_________________________________________________________________
'Freeze Your Fanny' for Hands & Voices, December 30
<![if !vml]>

<![endif]>Run. Walk. Bike. Hike. Roll. Crawl. Whatever your mode, join Hands & Voices for the "Freeze Your Fanny Virtual 5K" to welcome in 2023! All registrants will receive a race t-shirt, and the first 500 registrants will receive a custom finisher's medal. Your shirt will ship in December prior to the event. However, if you register AFTER December 1, you may not receive your shirt prior to December 30. Register now for $30 and start raising money. Click here for more information.
______________________________________________________________________
<![if !vml]>

<![endif]>
KCDHH Needs You…
<![if !vml]>

<![endif]>
October's (2022) KCDHH Spotlight Q&A is with Rachel Rodgers, who is the Interpreter Referral Specialist at KCDHH. Rodgers' hometown is Louisville, KY. She graduated from Eastern High School in Louisville, Kentucky. She earned her Bachelor of Science degree in the Interpreting Training Program at Eastern Kentucky University. Rodgers lives in LaGrange with her daughters, Riley and Isabelle. Read more here.
_______________________________________________________________
<![if !vml]>

<![endif]>
KSD Spelling Bee Dates Set to Begin October 17
The Deaf and Hard of Hearing Spelling Bee is a written spelling event and set for several locations. Volunteers are also needed.  Click here for registration information.
Tickets on Sale for KSD Gala, April 15, 2023
<![if !vml]>

<![endif]>
PLEASE VISIT KCDHH'S
<![if !vml]>

<![endif]>
COVID-19 Vaccine Resources
International:
Centers for Disease Control and Prevention (CDC)
National:
Federal Emergency Management Agency (FEMA)
What You Should Know About COVID-19 and the ADA, the Rehabilitation Act, and Other EEO Laws
Kentucky:
The official Team Kentucky source for Vaccine
Kentucky Registry of Vaccine Location
KCDHH COVID-19/Vaccine Important Links for Deaf and Hard of Hearing
Apps:
For those who have deaf family members who use sign language, consider downloading Sorenson Wavello and/or the ZVRS Sivo   app on your smartphone. This app makes it possible for you to see your loved ones on your screen next to your interpreter.
Other KCDHH Resources:
KCDHH's Telecommunications Access Program (TAP)
Landline or wireless equipment for Kentucky residents who are deaf, hard of hearing, speech impaired, or have both a hearing and vision loss.